"Ecker's expressive, conversational vocal style works no matter what the genre . . ."
Chip Withrow, The Muse's Muse Reviews
Enter the versatile, eclectic world of Patti Ecker, Chicagoland singer, songwriter, multi-instrumentalist and energetic entertainer. Come on in and browse around--you'll find information on Patti's senior programs, kids' shows, old-time programs with L.J. Slavin, shows with Louise Brodie, original music and much more!
New!! Here's a preview of the Kirk Player's upcoming production of "Spoon River Anthology." Performances 2/1 and 2/2, 2014. Details in the calendar widget!

Hey! I was on Chicago TV for the annual Rosehill Cemetary Veteran's Day ceremony! It's a really nice piece, and if you look closely, you can see Lt. Don Sherman (Mister Patti Ecker) in the parade. Watch for me at 1:23 singing "Yankee Doodle."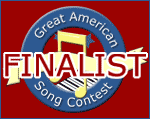 2008 Great American Song Contest Finalist for "Elsie"